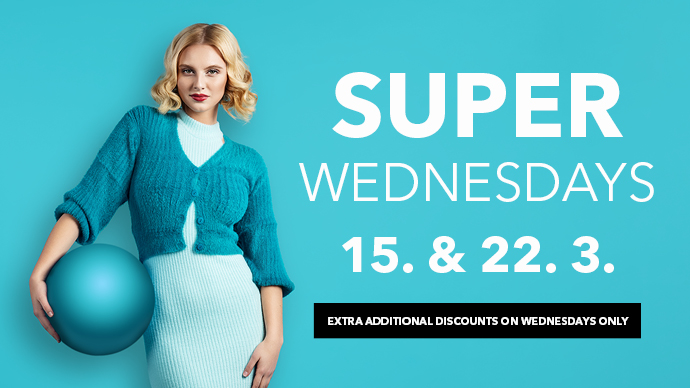 In March, the popular Super Wednesdays return to OAM
Have you missed it yet? Us too, which is why your favorite Super Wednesdays are returning to Outlet Arena Moravia in March. Wednesday doesn't have to be boring or ordinary. It may be the middle of the week, and the weekend is still a long way off, but our Wednesdays are completely different.
And as is our custom, we once again have two SUPER Wednesdays for you. They will take place on March 15 and 22 and will bring you very tempting discounts. You can easily and conveniently buy everything from fashion pieces, chic accessories for men and women, girls, ladies... to trendy assortment for the home. And when we say that you can buy everything advantageously, we really mean it.
Our stores have prepared for you interesting additional discounts, very favorable prices and also discount events, valid only on the given Wednesday. Stock up on your wardrobe, spring is almost here!
A wheel of fortune will also contribute to making our Super Wednesdays truly extraordinary. On March 15th and 22nd, our lovely hostesses will be waiting for you, and you can try your luck between 1pm and 6pm and win bonus points for the app or one of the gifts in our round. Don't hesitate and get involved. In March, you will find super rewards in our app, so the extra bonus points will definitely come in handy.
The selected goods and participating brands will traditionally be marked with our SUPER Wednesday sticker, so you will definitely not miss them.