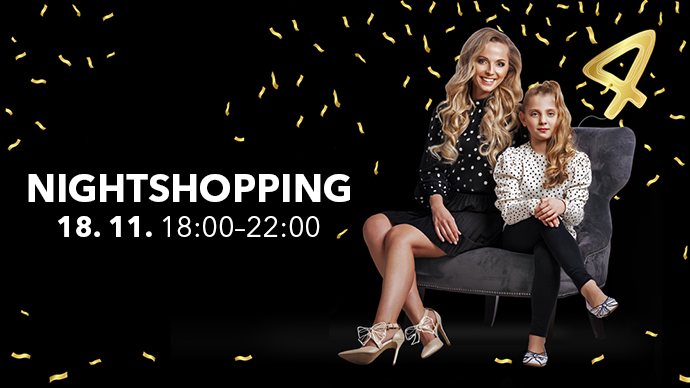 Friday night shopping full of extraordinary discounts
Prices will drop after dark! And that at least on Friday, November 18, when we prepared night shopping for you as part of the celebration of the 4th birthday of our Outlet. From 18:00 to 22:00 in selected stores you will find special discounts designed only for this event, and they will definitely be worth it. How would you like extra additional discounts on everything, gifts with purchase, or maybe a 1+1 free offer? You will find all the great deals in this newsletter coming soon. You can use them for your first Christmas shopping or just to make yourself happy.
Bargain shopping isn't the only thing waiting for you on Friday. You will be accompanied by DJ Ondra Vodný from Evropy 2 during the whole night shopping, who will create the right atmosphere, play the biggest hits and will also have voucher competitions for you. You can have fresh coffee and birthday cakes to warm you up. And what would a birthday party be without a gift? You will receive a little attention for our birthday on the spot from our lovely hostesses.
For the birthday, we have also prepared new and great rewards for our Pocket Outlet app. They will be thematically festive for our celebration and also a bit Christmassy. We believe that you will choose something nice.