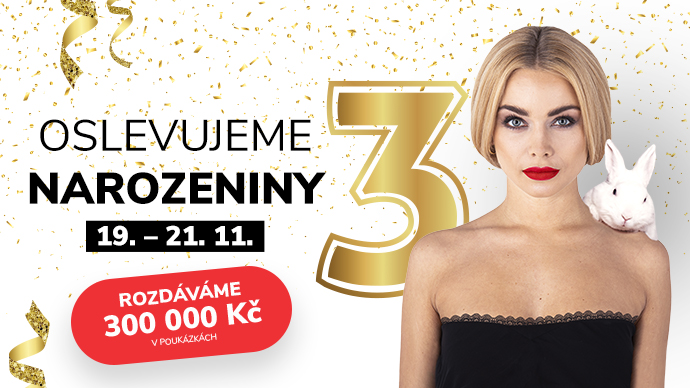 We will celebrate our birthday with you properly!
Who would have said that at the beginning of our story. That it will run away like water and we will celebrate three years of our outlet of existence this year. But that's right, time flies the same for all of us. In less than a month, Outlet Arena Moravia will celebrate its third anniversary. As is the case with birthdays, what kind of celebration would it be without friends? That is why we cordially invite you, our dear enthusiasts, to our party! We will celebrate our third birthday together during it.
What is certain now?
The celebrations will take place from Friday 19 November and will last the whole weekend. So make a good note: November 19th to 21st is the date when our birthday party will break out. Three years, it's not just that, it has to be celebrated really well. We know you well and we want you to have something to remember with us, so we are preparing a great nightshopping for you. It will take place on Friday, November 19, from 7 pm to 10 pm. During it and on Saturday afterwards, we will give you a total of 300,000 crowns in gift vouchers. Advantageous, isn't it?
In order to enjoy your shopping with us even more, huge additional discounts and sales are prepared for you during these three days. During Friday nightshopping, these discounts will be even higher - dizzying! What will you get?
Saturday parades, fireworks and a toast
You will have the main program and the opportunity to drink us for successful years to come on Saturday. Whether we can invite you for a welcome drink, a welder or you want to enjoy festive fireworks or inspiring fashion shows, we believe that we will all meet there. And that we will really enjoy it.
We are still hiding other points of the program, but we will reveal them in time. As well as the rules for issuing vouchers, so that as many of you as possible enjoy the joy of them and that it is fair.
So we cut the meter. And we are looking forward to it.
Program
We distribute a total of CZK 300,000 in vouchers throughout the weekend, but a maximum of CZK 100,000 in vouchers every day. The issue of vouchers begins on Friday, November 19. from 7 pm, issue of gift vouchers in the amount of CZK 200 compared to a receipt in the amount of CZK 2,000 and more. More information in the rules below. The program may change with respect to measures related to Covid-19. We will specify more detailed information.
Friday 19.11.
Nightshopping from 7 pm to 10 pm
from 7 pm the issue of GIFT VOUCHERS in the amount of CZK 100,000 begins
Welcome drinks
Saturday 20.11.
issuance of GIFT VOUCHERS in the amount of CZK 100,000
welcome drinks
DJ Lowa
competitions, photo corner,
Pavel Novotný Foundation
Street Art
at 7 pm festive fireworks
Sunday 21.11.
issuance of GIFT VOUCHERS in the amount of CZK 100,000
welcome drinks