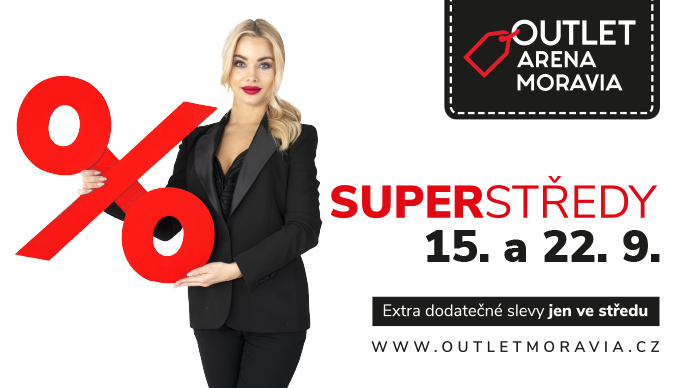 The last Super Wednesdays of this year are waiting for you in the Outlet Arena Moravia
We are preparing them for you on Wednesday, September 15 and 22, and they will bring you the opportunity to purchase trendy outlet goods with a favorable additional discount. These are the last Superwednesdays this year, so do not hesitate and come to us to buy as cheaply as possible!
During the two September Wednesdays mentioned, an additional discount or quantity promotion will be added to the already guaranteed 30% discount for more than thirty brands. In most of our stores, you can look forward to additional discounts on the entire or selected assortment, quantity discounts and much more.
As is customary during Superstřed, the involved shops and goods on the stands will be clearly marked with the Superstředa sticker, so you will definitely not miss them. These include, for example, your favorite brands Adidas, Alpine Pro, Calzedonia, Fade (with the desired brands Calvin Klein and Guess), Fann Parfumerie, Jewelery Aurum, Sam 73 or s.Oliver and others…
In addition to stylish clothes and seasonal goods from well-known brands, Superstřed has also joined the shops, which will help you slowly prepare smaller and larger attention for your loved ones under the Christmas tree. :) There will simply be no shortage of nice pieces in the offer of jewelry or, for example, watches and luxury perfumes.
So stop by us on the coming Wednesdays!