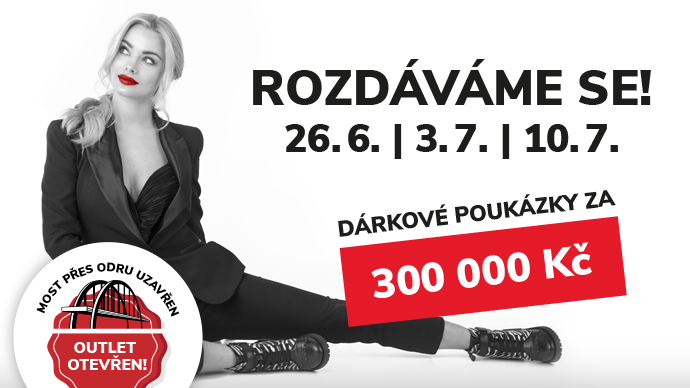 We're giving away this Saturday
We're giving away! And we reward you for your favor.
We enjoy fashion and style. And they will entertain you even more, you can trust us. Three unique shopping Saturdays are approaching by leaps and bounds, when you can shop in style at the Outlet Arena Moravia and still be rewarded for your shopping with us!
It is not for nothing that hot summer days demand the right refreshment and rest. And if not by the water, then in our air-conditioned shops. Therefore, you will also go for a summer outlet to seduce on Saturday, June 26, July 3 and July 10, and get attractive rewards on gift vouchers. In total, we have gift vouchers for you for 300,000 crowns. Anyone who buys over 1,000 crowns can try their luck in drawing balloons. The vouchers for which the draw is drawn are for 100 crowns, 200 crowns, 500 crowns or 1,000 crowns for a purchase and can be obtained against a receipt. Because our events We're giving away! wishes to play fair, each shopper may enter the draw only once on a given Saturday. So may you be lucky!
Breathtaking sales are still in full swing during the summer days. Your favorite brands Fade, Adidas, Puma, Desigual, Fade Clearance, Esprit, Alpine Pro and others have dizzying discounts of up to 80%. In addition, you can make outdoor shopping in the Outlet Arena Moravia more pleasant by sitting in one of the gardens of the local restaurants.
If you don't happen to know, we are open from 10 am to 8 pm without restrictions. The nearby closure due to the repair of the bridge over the river Odra for shoppers from the direction of Hlučín is clearly marked, it is definitely worth stopping by.
Because we can appreciate your favor.
Great summer days!