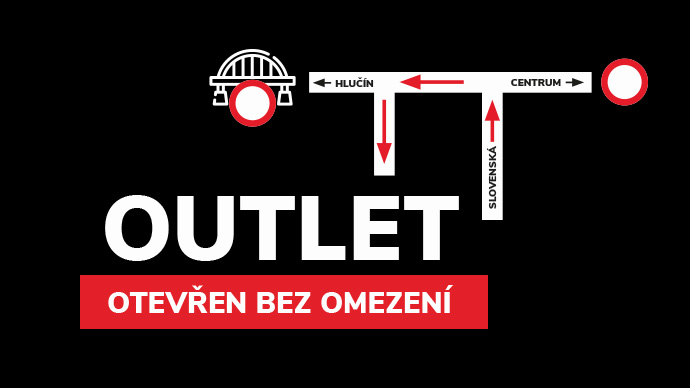 The outlet is open without restrictions!
Dear customers, as it seems, with the necessary repairs, the bag was torn in our area, so to speak. Even so, you can reach us safely, the marked route is visible here on the map.
Do you come to us by car from the center? Then this detour awaits you: Hlučínská Street is now closed, but you can reach us via Mariánskohorská Street. Here you enter the roundabout, where you take the 1st exit towards Přívoz and then at the second roundabout again the 1st exit and at the next traffic light you turn left in the direction of Outlet Arena Moravia.
For those of you who are used to taking us by bus, we have good news - the existing bus connections remain the same. The U Hornického muzea stop for buses no. 34, 56, 66, 281, 282, 283, 290, 292 is in operation in the same way as for bus no. 32, which will take you directly to the outlet area. On the contrary, it is not possible to use tram number 8 at this time.
Ongoing repairs are also unpleasant for us, but for trendy purchases, we simply endure it. Thank you for continuing to come back to us.
Stylish pieces, unbeatable discounts all year round and exceptional sales promotions - you will find it all at our address. And as always, in times you know well. Then come to us!