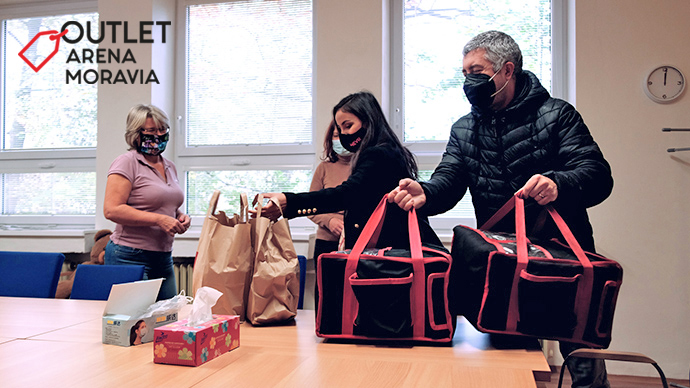 Also in 2020, we were firmly intertwined with the region, and we will continue to do so!
Dear lovers of fashion and style,
We know that the year 2021 once again began in our armchairs at home. What can we do? A lot. Despairing will do us no good. ☺ You can enjoy the everyday joys and plans that we are preparing for you in 2021.
First of all, our bold goal is to continue to participate in the quality of life in the region where we are based and where we are at home. That is why we constantly support projects that we consider to be meaningful and useful. One of these supported areas is education. That is why we were a partner of the Science and Technology Centre in Dolní Vítkovice (DOV) last year and we will continue to do so. We helped make unique expositions accessible to schools and pupils from distant corners of the Moravian-Silesian region. The interactive science centre is a state-of-the-art building with a science theatre and a 3D cinema children can visit. Furthermore, schoolchildren could see the former 6th Power Central of the U6 Science and Technology Centre with an engaging display of amazing technical inventions from the steam engine to space modules. In 2020, thanks to our support, over 2,000 children visited the DOV as part of this subsidized project. This activity is crucial for us, because smart minds move our region forward.
The second area where we focus our attention is sport. The one "chosen" by us represents a sport fused with the region – football. In cooperation with the FC Baník Ostrava, we want to organize a Small Champions League in 2021 as well. This exceptional sports activity is intended for footballers born in 2009 and younger. The football tournament is always held under the auspices of the Champions League winners and includes a diverse accompanying program full of fun and competitions for children and adults. Who knows what future talents and inspiration for others in the field of physical activity it will reveal? Let's wait and see.
The importance of health for a meaningful life does not need to be explained. We are therefore focusing our further efforts to support the Pavel Novotný Endowment Fund, which is dedicated to cancer patients. Without your help, hardly anything would change in this sphere. Fortunately, it is evident that solidarity is not an unknown concept for you, and that you hold the importance of helping others close at heart. In December, you donated gifts and presents for cancer patients directly in the Outlet Arena Moravia. You drew inspiration from the Christmas tree, where wishes for gifts that patients would appreciate most were hung. Thank you. You also helped the fund by buying products from its volunteers in the summer, and we look forward to repeating these events. We know very well that where there is health, there is general well-being. We therefore manifested our aid in this area in the form of a contribution for furnishing the café of the Pavel Novotný Endowment Fund, where patients, their loved ones and friends can have refreshments after consultations with experts.
Our region is inextricably linked with mining and its legacy. The weekend days at the end of August 2020 therefore belonged to day trips that introduced curious children and adults to the secrets of mining in Ostrava right in its heart – in Landek Park Ostrava. Guided tours were a guarantee of quality information from our mining history and a pleasant experience. Those interested also experienced authentic descents into the mines in the original mining cage, got to know the original historical strata called Albert and František, and got acquainted with original mining equipment and an exposition of the mining rescue service. Did you miss the event? Don't worry, it will take place again. We are a distinctive region, and you should learn why they say that about us.
Are you excited? Great. Of course, and last but not least: once again, you won't miss out on the MAXI Outlet Sales, where you can buy unique pieces at prices you hadn't even dreamed of. We are also preparing more tempting SUPERWEDNESDAYS (they will again take place several times a year!) and Middle Seasons events, thanks to which you can comfortably prepare for the next part of the year in advance and in time…
In short: there are many new plans and wishes to please you. Follow us and we will keep you continuously informed.