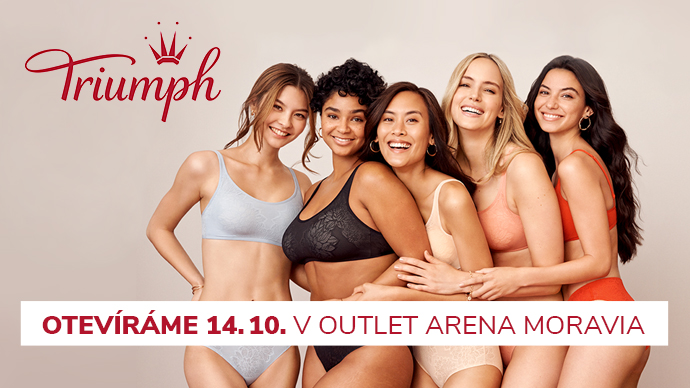 Triumph luxury lingerie is newly in the Outlet Arena Moravia
Outlet Arena Moravia will welcome the new Triumph brand on Wednesday, October 14, which will please all lovers of beautiful lingerie. During the grand opening of the store, customers will be able to buy goods at an additional discount - 30% to the outlet discount, ie for less than half of its normal price.
Triumph is a Swiss brand founded in 1886 with production in Germany and branches in more than 45 countries. Her pieces are renowned for their high quality, wearing comfort and well-fitting cuts. The brand really thinks of every woman's silhouette and in its wide offer, every customer will surely choose their own. Luxury lingerie is one more reason to visit the Outlet Arena Moravia. The other is the fact that the outlet is, so to speak, in the open air, because it does not have a covered connecting passage, which is its undeniable advantage today. In addition, so-called inter-season sales take place here from 1 October, culminating on the weekend of 16 to 18 October. And they will make everyone happy who wants to prepare for the dry autumn.
The center is regularly disinfected, from the entrance areas to the payment terminals. Careful care is taken here to wear veils. Thanks to the observance of the rules of safe shopping behavior during the COVID-19 pandemic, the center is the only one in Moravia to set out to obtain safe shopping certification. The last planned novelty is the opening of the Swedish brand Marc O´Polo store on 22 October. For a change, it will please all lovers of quality and comfortable fashion.