SAFETY MEASURES
Things turned out well and we are happy that the gate to the outlet world is open to the public. Safety and health of all of us was and will be our number one priority. For this reason we have introduced a few necessary preventive measures in the OUTLET ARENA MORAVIA (OAM) to make shopping safe and the shopping atmosphere enjoyable. Opening hours remain the same as those under normal circumstances, every day from 10 a.m. to 8 p.m.
Please follow the 6 + 1 GOLDEN outlet rules:
Always use a face mask indoors.
Keep at least 2m distance.
Use disinfectants on entire OAM premises and in the shops.
Pay with your card if possible.
Do not form larger groups.
Do not enter crowded shops.
Follow the instructions of the OAM staff.
+1 if you have symptoms of possible illness please put off your OAM visit until later!!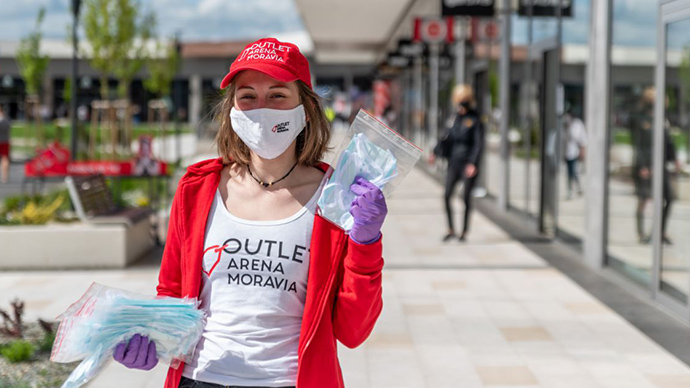 WE took care of everything else! We started more frequent disinfection of the premises, frequently touched surfaces (door handles, ATM, payment terminals) and more than five dozen OAM shops. Restrooms are open to the public and they are regularly disinfected. We didn't forget our children's playground either; it is subject to strict hygienic measures just like the entire OAM premises. When using the playground, follow the rules that are posted there.
In common outdoor areas we installed a total of 11 open-access self-service disinfectant dispensers 8 dispensers on the OAM premises, 3 in restrooms and 1 in the OAM information booth. Also, in the information booth we prepared for you disposable face masks that you can get for free in case your own face mask gets damaged.
Entire OAM premises are provided with notice boards informing about all the necessary preventive measures including a map showing the location of disinfectant dispensers and also highlighted instructions to keep 2m distance between the customers when entering shops or waiting at cash registers.
We are asking you to strictly keep the distance when entering shops and we regulate the number of customers entering shops to make sure the distance is at least 2m. You can use fitting rooms under strict hygienic conditions. Please follow the instructions of the staff when using the fitting rooms.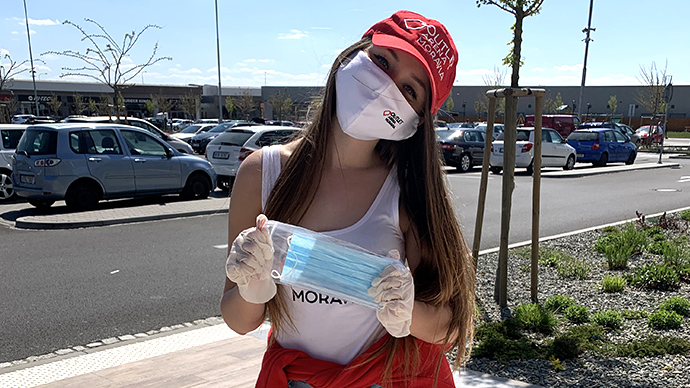 We arranged for professional training of all OAM staff members who will assist you with shopping at all times. Hand disinfectant and sufficient quantity of disposable gloves are available at each shop entrance. All OAM staff members wear gloves when handling goods and receiving payments. Payment terminals are regularly disinfected after each use.
Let's be considerate of ourselves and of the others. It makes sense. The more we respect the rules the sooner we get back to normal.
We look forward to your visit #WeWillMakeItTogether #BringFaceMasks
Your OUTLET ARENA MORAVIA team