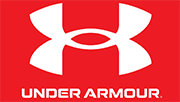 Under Armor
UnderArmour was founded in 1996 by Kevin Plank, a former American footballer from the University of Maryland. It bothered him during demanding training that he sweated the traditional cotton T-shirt he wore under his gear very quickly, and it became so uncomfortably difficult. That's why he came up with the plan to make top-of-the-line t-shirts that will be compressive and at the same time wick away unpleasant sweat from the body. T-shirts that will help the body regulate body temperature and increase performance.
Today, UnderArmour is one of the leading developers and retailers of functional clothing, footwear and sports equipment worn by the world's best athletes. The main faces of the brand include boxer Anthony Joshua, basketball player StephenCurry and Czech Olympic winner Martina Sáblíková. UnderArmour helps all professionals and avid amateurs to achieve better performance thanks to a special design, enthusiasm for the cause and continuous innovation.
Use the latest UnderArmour technologies and achieve better performance, too.