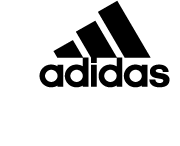 Adidas
Whether it's sports or fashion lines, adidas always offers great products.
The whole world sees the adidas logo as a symbol of quality sports shoes. Adidas uses state-of-the-art technology to bring its customers something extra for their favorite activities, whether it's jogging, football, workouts or tennis. adidas with its varied selection of retro styles, such as the famous Samba or Superstar shoes, or the Style line is more than just a sports brand.
Its styles have become a star of the fashion world and a legend of pop culture.