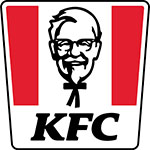 Mon-Sun | 9:00 - 21:00
+420 728 527 440
This email address is being protected from spambots. You need JavaScript enabled to view it.
www.kfc.cz
KFC
KFC, an expert on chicken specialties from Kentucky with a secret recipe, welcomes its customers in the 93rd branch in the Czech Republic. The restaurant is built according to the latest trends, in a new design, with an Order / Pick up system and an open kitchen.
KFC MEANS THE BEST LOCAL PRODUCTS
Wherever you are, you can be sure that the food we serve at KFC will always be fresh and prepared from the ground up by hand immediately before serving. Because only such food tastes best!
WHAT CAN I OFFER YOU
Twister has been one of the most popular products among Czech customers since its introduction in 2001. Overall, the popularity of sandwiches has been growing recently, with customers being able to choose from both a regular and a seasonal offer. Currently, the popular Mega Pocket, which customers have been writing about for a long time, has returned. The main product is stable, chicken with an original taste according to the recipe of Colonel Sanders and buckets. KFC also regularly launches special and limited menus to liven up the offer for customers and everyone has their own. This year, the offer has expanded to include breakfast, which is generally increasingly popular in the Czech Republic and is on offer every morning until 10:30. The complete offer can be found at www.kfc.cz.
We look forward to your visit.