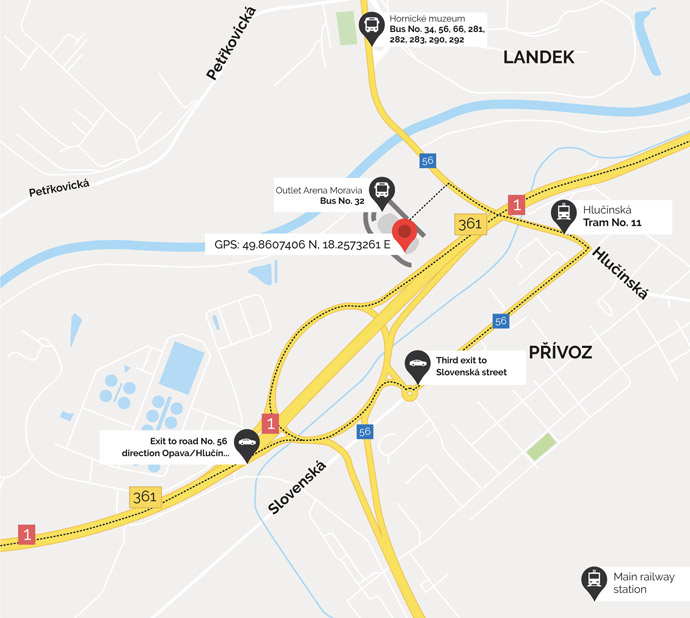 OUTLET ARENA MORAVIA
How can you recognize OAM?
Ostrava!!! You can find us here at the address Hlučínská 1170. However, it is possible to reach us from the city centre or from remote parts of the city, by car or by public transport. We are located just a short distance from the Polish and Slovak borders and thanks to the convenient motorway access you will often hear more than just the Czech language here. You can park comfortably at the outlet – our car park has a capacity of 800 cars and is free of charge.
Unique concept of the centre. Thanks to it, you will find everything you are looking for in one place. Household appliances, confectionery, fragrant roasted coffee, a drugstore, jewellery, watches, glasses, quality shoes for running, work and dates and, last but not least, trendy fashion pieces from popular brands. Do you want to please yourself or give an original gift to your loved ones? Save time, come to us. We are open daily from 10 am to 8 pm.
Trendy. We are only interested in the BEST from the world of fashion! We live for fashion. At Outlet Arena Moravia, we like to inspire you with what is currently in style. That is why we organize various interesting events and super sales for you. For example, our Super Wednesdays are already famous far and wide!
Less expensive! Thanks to us, luxury goods don't have to cost fortune. We guarantee discounts of 30 - 80% all year round.
Exclusive brand representation. We take pride in their selection. We now offer 50 world-renowned brands. You'll be sure to choose.
There for you: finally there is an outlet right here in North Moravia! We also have a good wi-fi signal and our restaurants will take care of your well-being. And we have an outdoor playground for kids. Now do you understand why you should shop at Outlet Arena Moravia?
So come and visit us! Your Kingdom of Fashion and Style.
How to find us
Address Outlet Arena Moravia, Hlučínská 1170, Moravská Ostrava
GPS: 49.8603172N, 18.2563325E
Bus No. 32
You can use regular bus coming from city center, which is a 10-minute drive away.
Bus No. 32 comes directly inside Outlet Arena Moravia.
You can find the timetable of Bus No. 32 HERE.
Bus No. 34, 56, 66, 281, 282, 283, 290, 292
Take any of these buses to Hornické muzeum bus stop. Then it will take only 5 minutes of wak to get to the centre.
Tram No. 8
The second option is the tram line No. 8 - its terminal station Hlučínská is within walking distance of the area (about 5 min.).
You can find the timetable of Tram No. 8 HERE.
By car you can reach us best from the streets Slovenská or Hlučínská. Parking is FOR FREE and we have over 800 parking spaces for drivers.
3D MAP OF STORES
Fashion
5 Gant
6 Gas
9 Bushman
13 GUESS
14 Max Tara
18 Desigual
26 Orsay Clearance
43 NAX
44 s. Oliver
46 Levi´s
48 Mustang
50 Tom Tailor
51 Fade
53 Esprit
55 SAM 73
56 Boxeur Des Rues
57 Calzedonia
58 Tommy Hilfiger
Food and drink
21 Lindt
27 Sweet Story
35 PUNK FOOD
37 Guty
38 KFC
39 Costa Coffee
42 Burger King
Sport and leisure
8 Puma
10 Trespass
19 Adidas
20 Alpine Pro
22 Under Armour
34 Regatta
45 Hannah
Beauty and health
25 FAnn Parfumerie
29 Optika Lunettes
63 dm drogerie markt
Household
7 Home & Cook
28 Banquet
54 Tchibo
Services
33 Don Pealo
67 LUNA dental s.r.o.
---
parking

toilets

changing
table

barrier-free
toilet

restaurant

cafe

bicycle
stands

information
panel

pedestrian
entrance

bus stop

Komerční banka
(ATM)

textile
container

guards

infocentrum

management
centers

gift
cards

defibrillator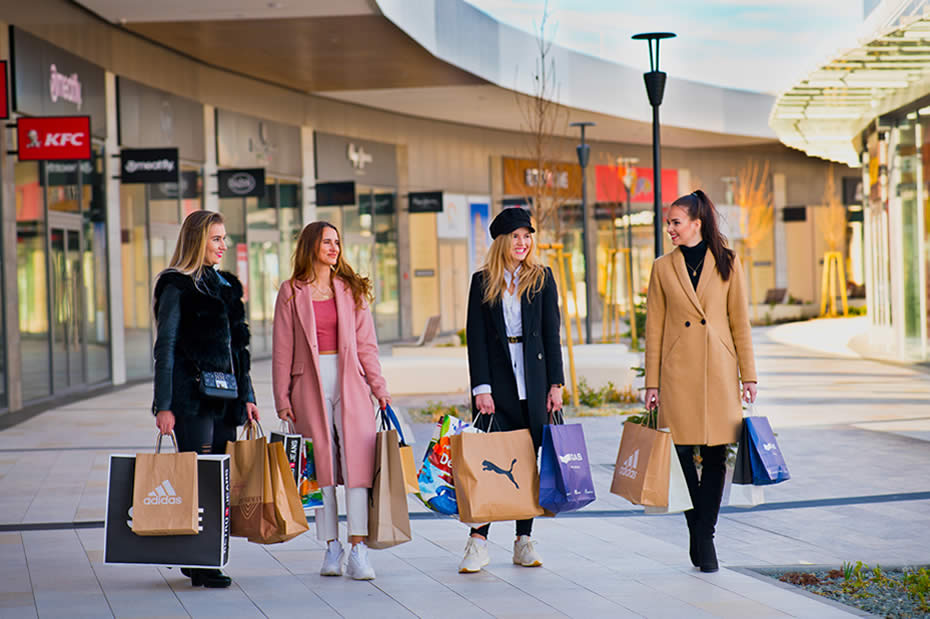 DO YOU HAVE QUESTIONS OR COMMENTS?
Thank you for your interest in our website and our company. Do you have a question that has not been answered on our site, comments or advice you would like to share with us? We are happy to assist you and look forward to your message.